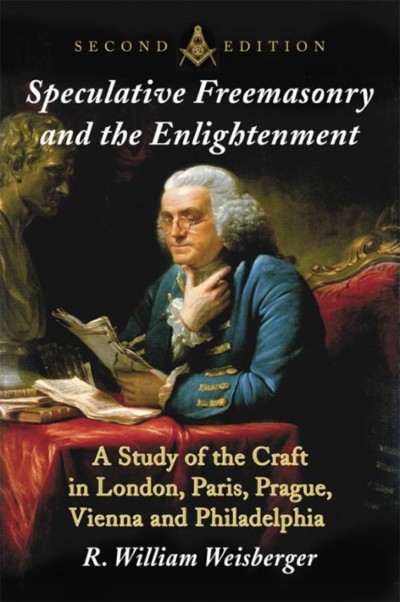 By R. William Weisberger, McFarland, publisher. Reviewed by Cathy Giaimo, Librarian, The Masonic Library and Museum of Pennsylvania.
In the early 1990s, Dr. R. William Weisberger wrote "Speculative Freemasonry and the Enlightenment: A study of the Craft in London, Paris, Prague, and Vienna."
In this edition, Dr. Weisberger wrote about the interconnectedness of Enlightenment philosophy and 18th century Freemasonry and its influence in these four major European cities. The Enlightenment sparked intellectual curiosity and provoked social changes throughout Europe. Though the philosophy of Freemasonry remained essentially the same in England and the Continent, the fraternity developed somewhat differently in each location.
In the second edition, Dr. Weisberger expands his book to include Benjamin Franklin and his Masonic involvement while in France, including his tenure as Master of the Lodge of Nine Sisters. The reader is given more insight into Parisian Freemasonry and its social aspects.
Another interesting chapter is how Freemasonry impacted Jewish civic rights in the late 18th century, particularly Philadelphia and Vienna. Prominent lodges such as the True Harmony Lodge in Vienna and the Lodge of Perfection in Philadelphia, among other lodges in this country, whose members were important sources in elevating the civic rights of Jews.
If you wish to borrow this book or any other found in the Library, please contact the library at 800-462-0430, ext. 1933, or just visit The Masonic Library & Museum online catalog. This book is also available for purchase from the publisher or Amazon.