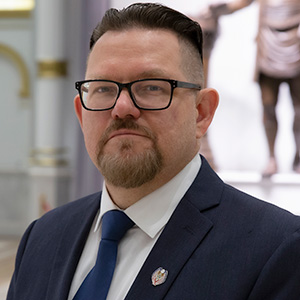 Michael McKee: Executive Director
Michael McKee has served as the executive director of the Masonic Library and Museum of Pennsylvania since October 2018, responsible for overseeing and leading its operations.
Previously, McKee worked as the executive director of operations and compliance for the Grand Lodge of Pennsylvania. He holds a bachelor's degree in business administration from Peirce College, along with an executive MBA from Drexel University's LeBow College of Business. He served in Operation Desert Storm during his enlistment with the U.S. Air Force from 1988-1992.
Motivated by his daily work, McKee enjoys meeting visitors from all over the world as he shares the art and architecture of the Masonic Temple. In his free time, he paints, spends time with family and plays unique instruments he's collected from around the world, including Tibetan singing bowls, an Australian didgeridoo and an African thumb piano.
McKee is a member of Jerusalem Lodge No. 506, Philadelphia.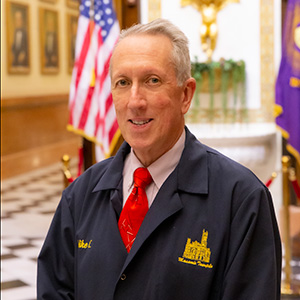 Mike Comfort: Director
Mike Comfort is the director of the Masonic Library and Museum of PA, where his responsibilities include managing museum displays, administering the on-site gift shop, filling website orders, conducting tours and heading monument restoration projects at Valley Forge National Military Park.
Previously, Comfort worked in newspaper retail advertising sales for 37 years. He earned a bachelor's degree in journalism and advertising from Temple University.
Comfort's love for history and collecting has influenced his devotion to historical and genealogical research. In his spare time, he enjoys collecting a wide variety of antiques that he has on display in his restored Victorian home. An active leader among the Boy Scouts of America for more than 50 years, he has published seven books related to the local history of scouting.
Comfort is a member of Melita Lodge No. 295, Philadelphia.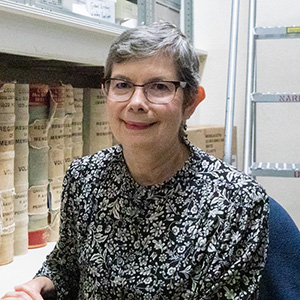 Cathy Giaimo: Librarian
Cathy Giaimo, librarian for the Masonic Library and Museum of PA, possesses over 25 years of library expertise. Her responsibilities include overseeing the library's circulation process, purchasing books, managing materials for the online catalog and fielding questions from individuals regarding historical manuscripts and journals within the library's collection.
Giaimo previously worked at the Philadelphia Art Museum as a library assistant. She has a bachelor's degree from Moore College of Art & Design and a master's degree in library science from Drexel University.
Receiving about a dozen genealogy requests per week, Giaimo enjoys the challenge her work brings. Outside of work, she can be found writing and posting short book reviews or "synopses" online, reading mystery books, sewing and practicing hand embroidery.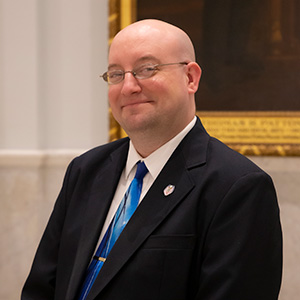 Mike Laskowski: Archivist
Michael Laskowski is the head archivist for the Masonic Library and Museum of PA. He is responsible for preserving artifacts and memorabilia of significance to the Grand Lodge of Pennsylvania, as well as cleaning and caring for documents and delicate books. He started as a tour guide and is now responsible for organizing and restoring the archives to be used for research purposes.
Laskowski earned a bachelor's degree in European and American history from Holy Family University and a master's in history for educators from LaSalle University.
A Philadelphia native, Laskowski's favorite pastimes include ballroom dancing, reading history books and grappling with golf.
Laskowski is a member of Columbia Lodge No. 91, Philadelphia.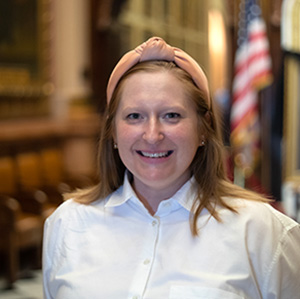 Stephanie Desjardins: Library and Museum Associate
Stephanie Desjardins is the library and museum associate for the Masonic Library and Museum of PA. Her responsibilities include assisting with research, museum tours, book and publication acquisitions, genealogy inquiries, front desk duties and archival projects.
Prior to her current role, Desjardins worked in data management at the University of Pennsylvania for 10 years. She obtained a bachelor's degree in English and history from the University of New Hampshire and is pursuing a Master of Science in information at Drexel University, with the goal of becoming a librarian.
Outside of work, Desjardins enjoys reading, learning, traveling and spending time with friends and family.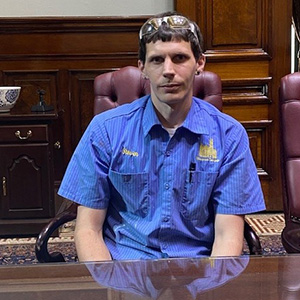 Steven Kessler: Maintenance Mechanic
Steven Kessler is the maintenance supervisor for the Masonic Library and Museum of PA. He is responsible for overseeing day-to-day maintenance operations for the Masonic Temple. Kessler started working in the building in 2012 as part of the catering business, transitioning into the maintenance department in 2019.
Kessler is a member of William Elkins Lodge No. 271, Philadelphia.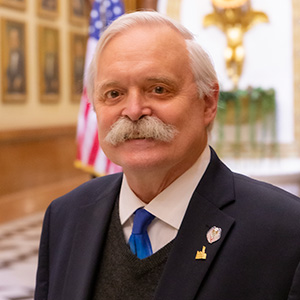 John Minott: Tour Guide
John Minott serves as one of the Masonic Library and Museum of PA's skilled tour guides. He has brought the Masonic Temple to life for visitors, both local and international, for over 30 years.
Minott earned a bachelor's degree in history from Stanford University and a master's degree in international studies from Oregon State University. Previously, he worked in the archives at the University of Oregon.
Minott can be found reading an array of subjects from anthropology and history to English mysteries. He is a member of Lodge No. 2, Philadelphia.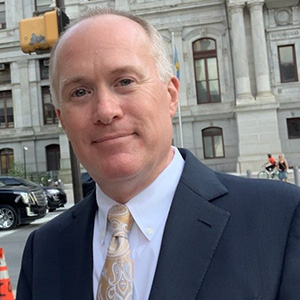 Lee Martin: Museum Associate
Lee Martin serves as museum associate for the Masonic Library and Museum of PA. His responsibilities include working at the front desk and gift shop, giving tours and helping to curate exhibits.
Martin is an avid fan of science fiction writing and enjoys attending conventions.