Hand, Eye and Heart Work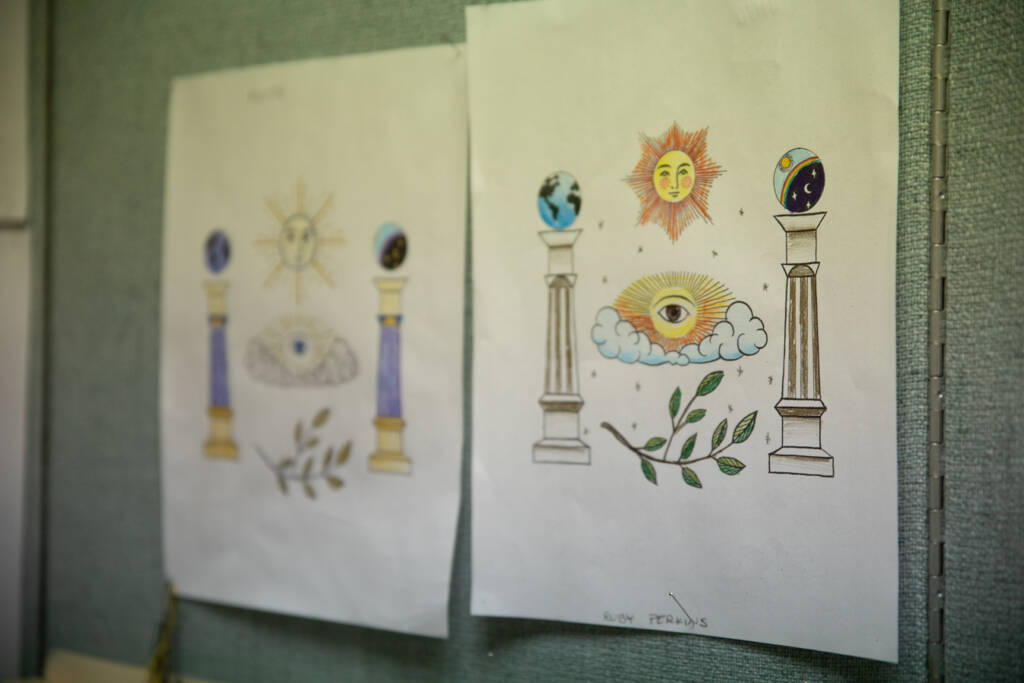 Santé Johnson was looking to utilize her embroidery skills in a community-based setting, and the Masonic Library and Museum of Pennsylvania was the perfect fit.  
"My main goal is to have a space for people to find value within the Masonic embroidery collection, while learning and bringing ideas from the past into the present and future," Santé said.  
Santé comes from a family full of Masonic ties, with Masons and Eastern Star members on both sides of her lineage. Her passion for embroidery stemmed from her love and interest in textiles during her twenties. Santé has studied art and embroidery in various cities across the globe, including Honolulu, Surrey, Paris, London, San Francisco, Seoul, New Delhi, Bangkok, Stockholm and Philadelphia.  
"I was lucky to be invited to India, where I met an Indian woman who learned how to embroider from Mother Theresa's nuns. After that, I went to the Victoria Albert Museum in London, where I studied textile collections and started taking hand embroidery classes at the Royal School of Needlework," Santé said.  
Her extensive knowledge and experience in embroidery landed Santé the only government hand embroidery and art job in North America. As a federal hand embroiderer, Santé spends 40 hours a week embroidering both the president's and vice president's flags. 
"Surprisingly to some, this was my dream job," Santé said. "It was a foundational goal of mine to serve my country. I knew Philadelphia supported the world through silk production, and I really wanted to be a part of that legacy."  
Santé took her love and passion for embroidery a step further by working with Mike McKee, Masonic Library and Museum executive director, to offer weekly embroidery sessions for the Masonic community. Current students are planning to enter and display their embroidery work in the open art competition, "Embodying Masonic Values." The embroidery sessions will open to the public every second Saturday of the month, from 10 a.m. to 1 p.m. and 2 to 5 p.m., and are limited to eight students at a $20 recommended donation. 
In these monthly sessions, students will learn about the Masonic embroidery collection, stitching basics and how to complete a sampler piece.  
"Embroidery connects us to the past, builds community and strengthens relationships," Santé said. "Hand embroidery takes dedication, skill and a love for something. You can tell the Masonic collection is a dedication to the past, and many stories have passed through these doors." 
Santé invites all interested individuals to take part in the embroidery sessions, as there is a lot to see and learn. Anyone looking to learn more about the embroidery program held at the Masonic Library and Museum can reach Santé at sante8@gmail.com. 
About the author: Camdyn Lehman is a public relations associate at Masonic Villages. She is majoring in business administration and minoring in marketing at Eastern University.