Founded in 1908, the Museum was dedicated by Brother John Wanamaker, a prominent Philadelphia merchant who served as the first Chairman of the Library Committee. The Museum's collection consists of more than 30,000 items. Some of these include Brother George Washington's Masonic Apron, embroidered by Madame Lafayette, which was presented to the Grand Lodge of Pennsylvania in 1829 by the Washington Benevolent Society; two letters in Washington's own hand addressed to his Masonic brethren; Brother Benjamin Franklin's Masonic Sash, worn in 1782, when he was Venerable (Worshipful Master) of the Loge des Neuf Soeurs (Lodge of the Nine Sisters or Muses) in Paris, and when he Guided Brother Voltaire.
As a general policy, we can only do minimal research on Masonic artifacts and paraphernalia. There are many fine pieces of Masonic regalia, jewelry, artwork, China, furniture, medallions and commemorative gifts. There are also many items of great sentimental value, but which have no intrinsic worth. The Masonic Library and Museum is not in the market to purchase or broker the sale of Masonic artifacts. Further, we are not permitted to provide an appraisal service on such items, whether for sale or given as gifts to the Masonic Library and Museum. Antique dealers are best equipped to serve these needs.
If you simply desire to return Masonic regalia such as swords, Past Master jewels, aprons or other items to the originating Masonic organization, we can put you in touch with the appropriate official. Please understand that, as a rule, these items will not be purchased, but will gladly be received for their sentimental value.
Occasionally, pieces of extreme rarity and historical significance are acquired for our collections. It is difficult, and nearly impossible, to research information on most of these items without visual examination. If you feel that you have an item which would be of interest to us, please forward a color photograph to us via the contact information found at the bottom of this page.
Brother Washington's Apron
This Masonic apron was one of two owned by Brother George Washington. When the young Marquis de Lafayette came to America at the age of 20 and joined George Washington's army for the Battle of Brandywine in 1777, the American cause had become his cause.
The affection each man held for the other is legendary. So, too, is the legacy of Masonic history developed through that affection. For many years, Masons and non-Masons believed that the white silk apron known as the Lafayette Apron had been embroidered by Madame Lafayette and presented to Brother George Washington by Brother Lafayette in August of 1784. This cannot be documented as fact. It has, however, been ascertained that the apron did indeed belong to Brother Washington, and current research suggests that it was made in China.
The apron was presented to the Grand Lodge of Pennsylvania by the Washington Benevolent Society on July 3, 1829, and is now on display in the Grand Lodge Museum at the Masonic Temple in Philadelphia. It is a study in symbolism. For example, the apron border colors of red, white and blue are the national colors of both the United States and France.
In preparing the following, the late Brother Frank W. Bobb, Grand Lodge Librarian and Curator, has used those meanings most widely accepted by Masonic scholars in interpreting the symbolism of the Washington Apron.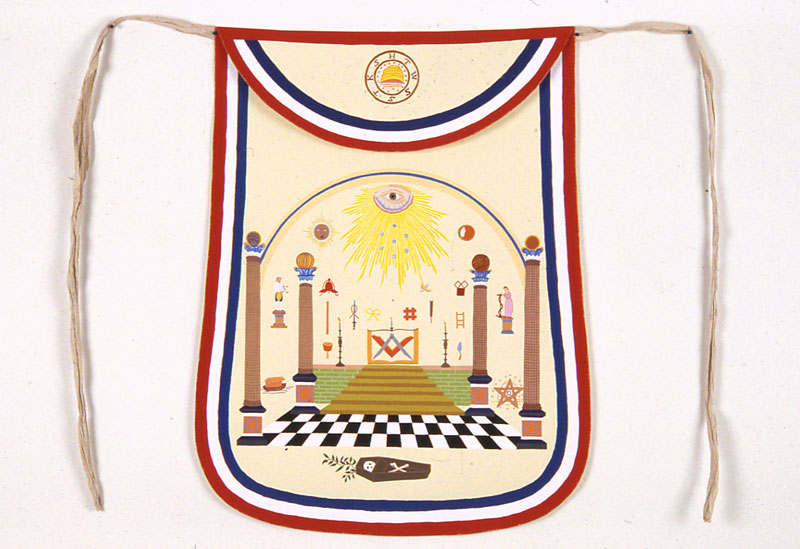 Architecture of the Museum
The architecture and decorations of the Museum room are intricate Byzantine. Virtues obtained from education are illustrated by the inscriptions on the frieze and by the 20 allegorical figures. Those Latin inscriptions are: "Quodcumque facere potest manus tua, instanter operare; quia nec opus, nec ratio, nec sapientia, nec scientia erunt apud inferos, quo tu properas. Ecclesiastes Cap. IX 10" (Whatsoever, thy hand findest to do, do it with thy might; for there is no work, nor device, nor knowledge, nor wisdom in the grave, whither thou goest.-Ecclesiastes, 9 : 10). "Sola perpetuo manent, subjecta nulli, mentis atque animi bona. Seneca. Oct. 548." (The virtues of the mind and soul, subject to no one, alone remain forever. –Seneca, Octavia, 548). "Viamque insiste domandi, dum faciles animi juvenum, dum mobilis aetas. Virgilius G. III.164" (Begin early the course of education, while the mind is pliant and age is flexible.–Vergil, Georgics, 3, 164).